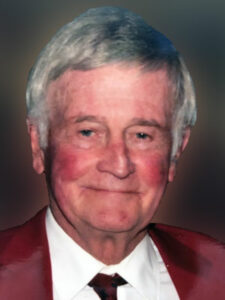 On Sunday, August 27, 2023 Douglas Haig Kyle of Calgary, Alberta passed away suddenly at the age of 91.
Doug was predeceased by his beloved wife, Carol of 63 years. He was a loving husband, father and grandfather. Doug was driven and always wanted success for his children, his son Robert, an Environmental Engineer and his daughter Suzanna, a retired Parole Officer.
Doug was born in Toronto, Ontario, however his family moved frequently as his father was a Bank Manager. By the time Doug was applying to go to university his family was living in Saskatoon, so Doug chose to go to the University of Saskatchewan, enrolling in Geological Engineering. While at the U of S, Doug started running in track and field. From there he moved to the University of British Columbia where his lifelong love of sports began to flourish.
In 1956, 1957, and 1959 Doug was voted Canada's Outstanding Track Athlete. He was selected for the Canada Olympic Track and Field Team, and competed in the 1956 and the 1960 Summer Olympics in Melbourne and Rome. Doug also competed in the 1959 Pan-American Games where he placed second in the 10,000 meters and third in the 5,000 meters.
In 1958 Doug moved to Calgary, and with his wife Carol, started the Calgary Track and Field Club (CALTAF). CALTAF was one of the first Western Canadian Track and Field clubs started after WWII. In 1959 Doug was inducted into the Alberta Sports Hall of Fame. In 1963 Doug co-founded the Calgary Marathon in a successful attempt to host the 1964 Olympic Time Trials in Calgary. He won the first Calgary Marathon. In 1967 Doug was Head Coach of Canada's track team to the Pan American games in Winnipeg, and Head Coach of Canada's Track Team to the 1968 Summer Olympics in Mexico City. In 1969 he was voted the Booster Club Sportsperson of the Year. In 2011 Doug was inducted into the UBC Sports Hall of Fame.
Doug was a successful executive with Gulf Canada Resources of which he retired from in the early 90's. He was a track and field official, and trained numerous officials over the years. Doug belonged to the Booster Club of Calgary, the Calgary Stampede Prelude Parade Committee, Rotary Club of Calgary, was a Past President of the Calgary 55 Plus Organization, and a longtime member of St. Peter's Anglican Church.
Doug is lovingly remembered by his daughter Suzanna (Zenon) and son Robert (Janet), his granddaughter Jennifer and grandson's James and Alexander, and sister Lynn Smith. Doug is predeceased by his parents Arnold and Orma, his beloved wife Carol, his granddaughter Joy, and his "guard cat" Meah.
A celebration of life for Doug will be held at St. Peter's Anglican Church, 903 – 75 Avenue SW, Calgary on Thursday September 21, 2023 at 1:30 p.m.